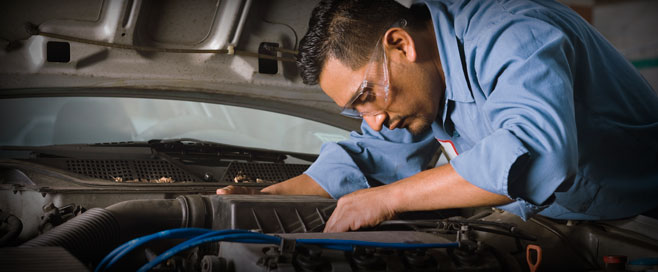 Remembering to change your oil is an important part of owning a car. Oil lubricates the engine and other components, ensuring smooth functioning. We've put together an easy guide on how to change your oil, letting you do the routine maintenance yourself. If you are not car-savvy, however, it is recommended that you bring your car into Sanderson Ford for routine maintenance.

The first step is to gather your supplies. You'll actually be changing the oil and the oil filter, so check with your local auto parts store to ensure you have the proper viscosity of oil and the right type of filter. You should also have a pan to drip the old oil into, at least capable of holding five to six quarts. Next, a box end wrench, jack, jack stands, and gloves (optional) are all you need.

After you raise your car up, put jack stands under the car to make sure it's safe. Also, put the emergency/parking brake on, and place a wedge under the tires to prevent rolling. When raised and secured, you can place the oil pan under the car, remove the drain plug, and let the oil flow. If your engine is cold, try warming it up for five minutes to let the oil warm up; however, if it's too hot to handle, let it sit for 30 minutes.

After emptying the system, move on to the oil filter. Most simply unscrew by hand, though it may take some elbow grease. You may also opt for a special oil filter wrench/socket. When the oil has stopped flowing, place the new gasket (if required) on the new oil filter, and rub a bit of fresh oil around the edges. After screwing the new oil filter tightly in place, re-screw the drain plug as well. Now you're done under the car.

Next, add the new oil by pouring it in the oil fill hole under the hood (use a funnel to avoid a mess). After starting the engine, make sure no oil lights are on. You can all check fill levels to make sure you have enough oil. Make sure to dispose of old oil properly. Visit earth911.com for disposal sites near you.
​
6400 N. 51st Ave.
Glendale
AZ
85301
Hours
Monday

7:00am - 6:00pm

Tuesday

7:00am - 6:00pm

Wednesday

7:00am - 6:00pm

Thursday

7:00am - 6:00pm

Friday

7:00am - 6:00pm

Saturday

7:00am - 3:00pm

Sunday

Closed