Keeping up with your vehicle's service in addition to other aspects of your life can get complicated. Knowing the function of parts, having a general knowledge of your vehicle, and keeping track of your service schedule isn't always easy. To help you break it down, here are a few frequently asked questions about maintaining your vehicle so it runs at peak performance.
Q: How often should I change my oil?

A: Your oil is one of the most important parts of your car. It's essentially responsible for your engine, and if you've ever seen the price of a new engine, you'll want to keep up with regular oil changes.

Oil plays three important roles within the engine block. First, it lubricates all the moving parts so they don't damage one another. Second, it prevents carbon from building up. Lastly, it helps keep the engine from overheating by carrying away excess heat.

As a general rule, you should change your oil every 5,000 miles or six months, whichever comes first. Consult your owner's manual for a more exact number for your make and model.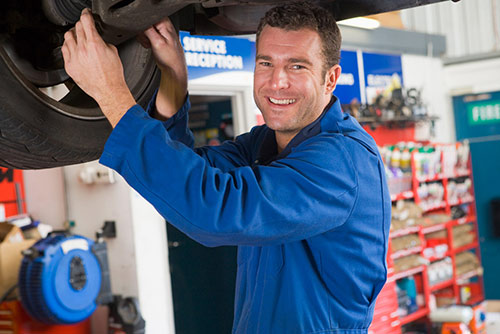 Q: When do I need new brakes?

A: While the technician should take a look at your brakes at every scheduled service appointment, knowing the signs that you need new brakes could save you from disaster. No two brakes are alike, which makes it hard to pin down an exact number.

One of the most common signs you need new brakes is a high pitched squeal. Trust us, you'll know it hear it. Vibrations when braking normally are another sign you're going to need new brake pads very soon.

As long as you keep up with your oil changes at a dealership, you won't be in for any unfortunate surprises.
Q: What are the benefits to properly inflated tires?

A: Your tires keep your car on the road and while that's reason enough to keep them properly inflated, there are a few more benefits. In addition to a smoother ride, your tires will last longer and you'll see improved fuel efficiency as well.
6400 N. 51st Ave.
Glendale
AZ
85301
Service Hours
Monday

7:00am - 6:00pm

Tuesday

7:00am - 6:00pm

Wednesday

7:00am - 6:00pm

Thursday

7:00am - 6:00pm

Friday

7:00am - 6:00pm

Saturday

7:00am - 3:00pm

Sunday

Closed